Winners of Koinfox & Stably Mega Trading Competition (April 2020)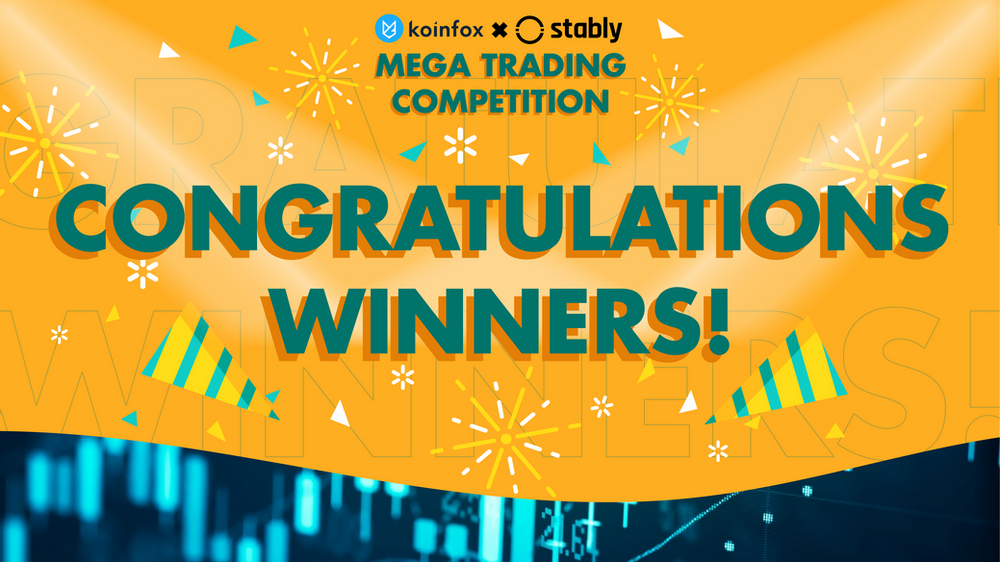 Koinfox & Stably partnered together providing a MEGA trading competition that occurred from April 27th to May 3rd, 2020.
2 games were involved:
Game A: Best Tradathon
Top 10 traders with the best trading volume (buys and sells) for the USDS/USDT pair will get 50 USDS each
Game B: Best Sprinter
Top 3 profitable traders (ranked by return on investment) for the USDS/USDT pair will be rewarded as:
Champion: 250 USDS

1st Runner up: 150 USDS

2nd Runner up: 100 USDS
CONGRATULATIONS TO ALL THE WINNERS!
Eligible winners should match the below criteria, make sure you have done them all.
How to claim your prize:
Share this blog post on your Twitter or Facebook, tagging Stably & saying that you are a winner

Send a link of your post or a screenshot to our Stably team member, Minh: https://t.me/thainhatminh @thainhatminh via Telegram

Minh will send you a link to a form which you will need to fill out and submit

USDS will be deposited to your wallet within 14 working days after the form has been submitted
If you have any questions please reach to us on Telegram: https://t.me/StablyCommunity
---
Stably is a US-based FinTech providing fiat onramp and stablecoin infrastructure to digital wallets, decentralized applications, Web3 projects, and blockchain development organizations. Our mission is to power the next billion Web3 users with a superior fiat <> crypto onramp to all popular and emerging blockchain ecosystems.
For more information, contact Stably.
Follow Stably: Twitter | Linkedin | Facebook | Stably Discord Community
RISK DISCLAIMER: Digital assets involve significant risks, including (but not limited to) market volatility, cybercrime, regulatory changes, and technological challenges. Past performance is not indicative of future results. Digital assets are not insured by any government agency and holding digital assets could result in loss of value, including principal. Please conduct your own thorough research and understand potential risks before purchasing/holding digital assets. Nothing herein shall be considered legal or financial advice. For more information about the risks and considerations when using our services, please view our full disclaimer.