USDS Stablecoin Launches on Bittrex
First Exchange Listing for Stably USD (USDS)
Stably is excited to announce the official launch of our stablecoin, USDS! The first exchange that USDS will be listed on is Bittrex, which will open trading for USDS/BTC trading pairs at 9:00 AM PST today (Thursday, December 6th, 2018). Users can start depositing USDS tokens and begin trading at that time.
Start trading: https://bittrex.com/Market/Index?MarketName=BTC-USDS

How Does USDS Stay at $1?
USDS is a stablecoin designed to be pegged one-to-one with USD (1 USDS = $1 USD). This ratio is guaranteed whenever you want to purchase or redeem USDS directly with Stably, because Stably holds a one-to-one reserve of USD against all issued USDS in the market.
On the open market (e.g. on exchanges such as Bittrex), this ratio may not be one-to-one, due to various market forces such as demand and available liquidity. Please be cautious if/when the price deviates from this ratio.

Transparency
Stably recognizes that a fiat-backed stablecoin requires a high standard of public transparency for consumers and businesses to build trust. Learn more about how Stably has been laying the groundwork with the proper preparation, regulation, and transparency to effectively address counterparty risks for our stablecoin.
Leading third-party auditor, will provide regular attestations on our reserve balance — an attestation on our initial balance can be found here. Additionally, you can find a link to our smart contract and Ethereum transaction history for USDS here.
To provide a complete and up-to-date level of transparency on our reserve, Stably will also provide a view of our reserve balance in real-time, via a live feed from the API of our reserve holder, Prime Trust. This will be available on our purchase/redeem platform, which will be released in the coming weeks.

How to Purchase and Redeem USDS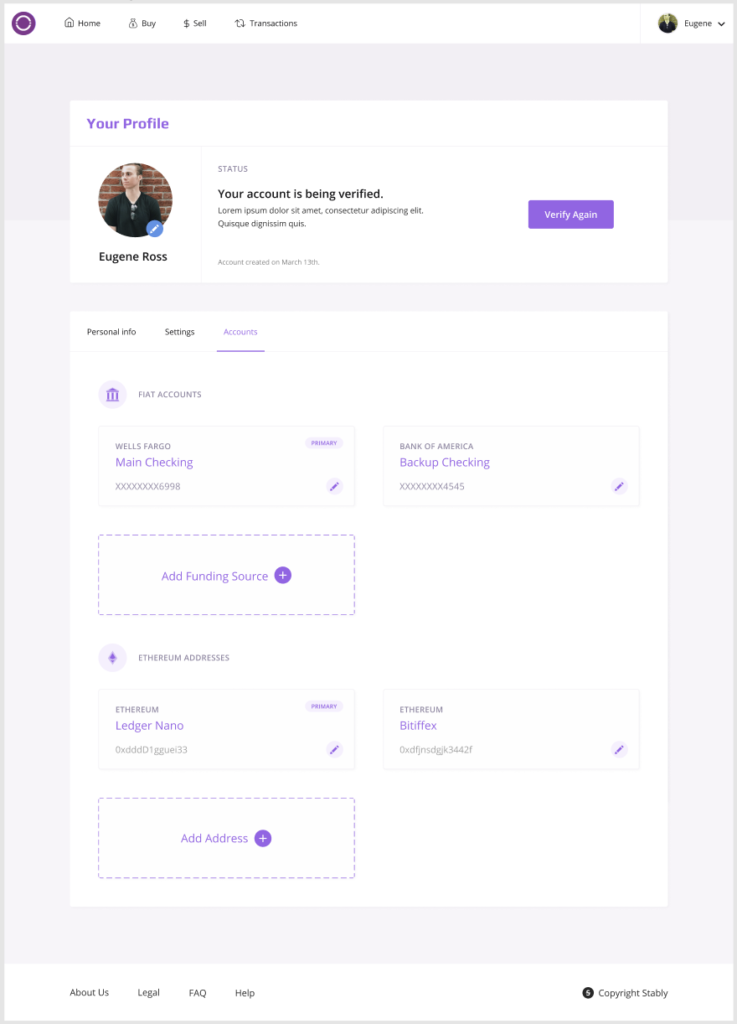 An sneak peek at our soon-to-launch USDS purchase & redeem portal
In the coming weeks, Stably will release a platform to make it easy for users to purchase and redeem USDS, making it simple to move between fiat and crypto.
Until that time, users can make purchase and redemption requests for USDS here. A member of the Stably on-boarding team will then contact you to guide you through the process for purchase and redemption of USDS. At this time, the minimum for creation / redemption of USDS is $5000. In the coming weeks, once the Stably platform is live, our minimum will be $50.
Stably charges no fees for purchase or redemption, outside of associated wire fees from your bank or our regulated trustee for depositing or receiving USD. Our fee schedule is subject to future changes without notice but we will make every best effort to inform existing account holders of such decision in a reasonable amount of time before it happens.
Account opening/closure fees: $0 USD
Account maintenance fee: $0 USD per month
USDS purchase fee: 0% per transaction
USDS redemption fee: 0% per transaction
Ethereum gas fee: 0 ETH
Wire fee for USDS purchase: Please refer to your bank or service provider's fee schedule.
Wire fee for USDS redemption: Please refer to Prime Trust's wire fee schedule, currently $15 domestic / $35 international.

What is USDS?
The biggest and most obvious problem with using popular cryptocurrencies, like Bitcoin, for transactional purposes at the moment, is price volatility. Stably USD (USDS) virtually eliminates this price volatility, while still retaining many useful characteristics of cryptocurrencies — fast transaction speed, anonymity, and immutability.
The immediate use case for USDS is to help crypto-traders preserve their wealth during periods of market volatility. In the future, a stablecoin like USDS could also be applied to other use cases such as fast and borderless payments, an efficient and cheaper solution for remittance, smart contract and DApp integration, and a reliable alternative to money in developing or hyper-inflationary economies.

About Stably
Stably is a venture-capital backed startup that is on a mission to connect wealth from the real world to the blockchain economy and help bring stability to the volatile cryptocurrency market. We raised seed funding from 500 Startups, Beenext Ventures, and angel investors to kickstart our project.
— — — — —
Subscribe!
Want the latest news and updates? Join our Announcement Channel on Telegram!
Follow us on social media:
Website | Twitter | Linkedin | Facebook | Updates & Announcements
Legal: legal@stably.io
Press: marketing@stably.io
Exchanges or Market Makers: exchanges@stably.io
Partnerships: enterprise@stably.io
Investors: Kory Hoang, CEO — kory@stably.io