This is How Cryptocurrencies Stand To Help The 1.7 Billion Unbanked
Cryptocurrencies as an alternative banking solution
Cryptocurrencies have taken the world by storm thanks to their ability to enhance financial transactions. Mainstream adoption is gaining traction by the day, with businesses continuing to embrace virtual currencies as an alternative to fiat currencies. Mainstream companies such as Facebook and JPMorgan unveiling their own cryptocurrencies and stablecoins affirm the vital role that the digital assets will play in the digital economy.
The Role of Cryptocurrencies
Cryptocurrencies are already starting to fill a void left by the traditional banking systems. Data by the World Bank indicates that as many as 1.7 billion people around the world do not have access to banking services. Inability to access banking services has made it impossible for such people to do simple things such as pay water and gas bills, as well as live a comfortable life as the rest of the world.
Getting financial services to the unbanked is of great importance as a way of improving the quality of life of these 1.7 billion people. Access to financial services such as loans and mortgages could allow the unbanked to start businesses or even buy a home.
Access to banking should also provide such people with new possibilities. Blockchain technology is already promising change. Free from regulations as well as intermediaries, cryptocurrencies are slowly giving power back to the people. In addition, businesses are now able to target markets that in the past were beyond reach. People will soon be able to buy and sell goods and services anonymously, without the oversight of intermediaries.
Venezuela is a perfect example of how cryptocurrencies are helping change the lives of people who are unable to access banking services. The collapse of the country's financial system has resulted in a spike in the use of cryptocurrencies to combat the hyperinflation of the Venezuelan Bolivar.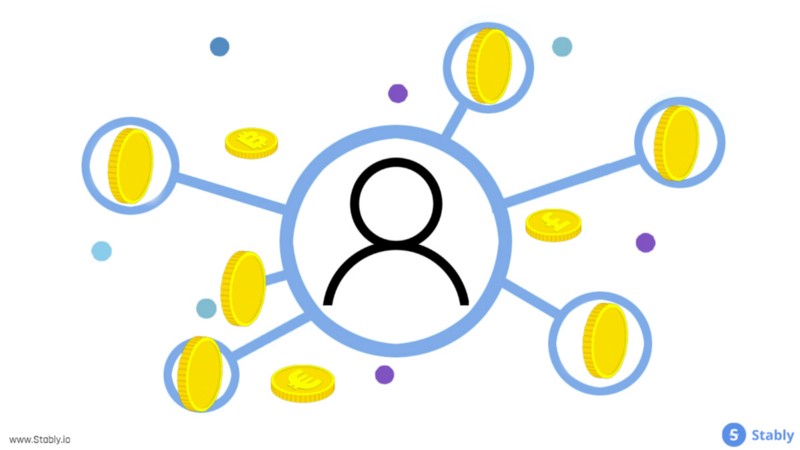 Stablecoins for the Unbanked
While most people have shunned cryptocurrencies because of volatility, stablecoins promise to solve this. Unlike other cryptocurrencies, stablecoins are pegged on stable assets, such as national currencies (e.g. dollar, Euro, Yuan) or precious metals.
High liquidity during market collapse is another attribute that makes stablecoins stand out. However, insulation from sporadic volatility, while featuring all the other synergies of normal cryptocurrencies should continue to ramp up the need for stablecoins in unbanked communities Stably is one such coin that promises to offer reliable banking services as a stablecoin. StableUSD is backed by U.S dollar tokens on a 1:1 ratio, making it one of the most reliable stablecoins on the market. The use of stablecoins such as Stably should help the unbanked and eliminate the price volatility synonymous with other cryptocurrencies.
However, if cryptocurrencies, including stablecoins, are to have the desired impact in bringing the unbanked to the financial sector, then a lot has to change. For starters, there need to be a coordinated approach between global regulators and policymakers for cryptocurrencies to act as a borderless alternative to banking. Regulation is crucial to ensuring a sound system whereby people's cryptocurrencies holdings are protected.
As cryptocurrencies continue to arouse concerns among many stakeholders, the underlying blockchain technology is proving to be extremely valuable in enabling financial value chains. If appropriately configured, blockchain technology could address a number of issues that have so far constrained cryptocurrency adoption. The technology has the potential to have a lasting impact on traceability and the cost of financial transactions.
Why Stablecoins are the Best Solution
Stablecoins are proving to be the ultimate solution in enhancing financial inclusivity around the world. With the help of a smartphone or a laptop and internet connection, financial access is reaching people in remote parts of the world. A phone with a cellular connection is all that people who cannot access banking services need to send and receive money. Not only is the solution reliable but also cheap, fast, and secure.
Banks have struggled to reach the masses, especially in undeveloped and remote areas given the lack of clear identification information needed to implement KYC practices. However, with stablecoins and their underlying blockchain technology, KYC is not a prerequisite.
Stablecoins are already sending shockwaves, given the benefits they continue to offer in commerce. When used correctly, they are making businesses more efficient, secure, and transparent. Stablecoins promise to make commerce efficient and more secure at a time of increased cyber-attacks targeting financial transactions.
While most people have so far resisted cryptocurrencies, things should change as people come to terms with the security that makes ledger technology stand out and the price stability of stablecoins such as StableUSD.
Below are some of the potential synergies as stablecoins make inroads into unbanked societies.
Broader Market
While banking services have struggled to reach remote parts of the world, the same cannot be said about smartphones and mobile phones. The proliferation of smartphones and other mobile devices to all corners of the world presents a unique opportunity for stablecoins as a potential replacement of fiat currencies in finance.
Mobile payments are increasingly taking over, providing a way for stablecoins to become an alternative form of payments. The fact that stablecoins enable fast and cost-effective transactions is one of the reasons why most people are likely to accept them, as opposed to other forms of payments.
That said, any business that accepts stablecoins as a payment method is likely to enjoy access to a broader target market in the future. Stablecoin payments would also make it possible for businesses to target customers across the border by running e-commerce platforms; by targeting untapped markets, businesses stand to uncover new business opportunities.
Fast Transactions
Fast transaction times is one of the synergies that businesses can no longer ignore when it comes to cryptocurrency payments integration. Credit card systems have struggled to gain a foothold in most parts of the world, given the bureaucracy involved in processing credit card payments.
Most people have continued to shun banking services because of hefty transaction costs that can eat up to 10% of the money that one intends to send. With some transaction charges rising as high as 17%, cryptocurrencies are slowly providing a better option. For instance, Bitcoin's average transaction fee is only a few cents.
As cryptocurrencies go, if more people embrace them, transactions costs will drop even further. A lack of banking services has rendered many businesses and customers hapless when it comes to finalizing crucial financial transactions in time. Stablecoins promise to change this with instantaneous payments that would be of great benefits to other sellers and buyers.
Low Fees
Low transaction fees are another attribute that make stablecoin transactions stand out for the unbanked population. The fact that credit card transactions take days to process is one of the reasons why some people have opted against banking services. With the help of a mobile device with a cellular connection, the unbanked population can enjoy banking services and low transaction fees with cryptocurrencies.
Stablecoin transaction fees are significantly less compared to those charged by other payment systems such as PayPal or credit cards. The low transaction fees could entice more people to engage in commerce without having to worry about incurring additional costs.
Facebook Libra for the Unbanked
Facebook is already looking to change the game for the millions of people who cannot access banking services. The company has launched Libra, stating that it seeks to provide financial services worldwide. Customers looking to transfer and hold Libra tokens will be able to do so using a number of options.
By setting up a digital wallet, Facebook intends to make it possible for users to transfer funds to each other and store tokens locally.
To access the Libra tokens, customers only have to access their digital wallets through a standalone app on a mobile device. The Libra stablecoin would also be accessible on Facebook Messenger and WhatsApp. The ease of access to funds is one of the benefits that could have a positive impact on commerce, especially in unbanked regions.
Cryptocurrency Revolution Tailwinds
While cryptocurrencies and stablecoins promise to revolutionize commerce, especially for the unbanked, a number of tailwinds stand in the way of a crypto revolution. For starters, governments around the world are not ready to cede power and let cryptocurrencies replace fiat currencies. China and India have already banned the use of cryptocurrencies, underscoring the punitive measures in the way of cryptocurrencies taking over.
The fact that there is too much at stake economically and on security is one of the reasons why it could take several years before cryptocurrencies replace fiat currencies as legal tender in most countries. The potential loss of taxes with the use of cryptocurrencies is another outcome that governments remain wary of.
Cryptocurrencies transactions are also untraceable, so governments would find it difficult to trace transactions that are liable for taxation. The intractability of cryptocurrencies could also trigger the proliferation of illegal activities. Terrorists and criminal organizations could use cryptocurrencies to propagate illicit activities.
---
Stably is a US-based FinTech providing fiat onramp and stablecoin infrastructure to digital wallets, decentralized applications, Web3 projects, and blockchain development organizations. Our mission is to power the next billion Web3 users with a superior fiat <> crypto onramp to all popular and emerging blockchain ecosystems.
For more information, contact Stably.
Follow Stably: Twitter | Linkedin | Facebook | Stably Discord Community
RISK DISCLAIMER: Digital assets involve significant risks, including (but not limited to) market volatility, cybercrime, regulatory changes, and technological challenges. Past performance is not indicative of future results. Digital assets are not insured by any government agency and holding digital assets could result in loss of value, including principal. Please conduct your own thorough research and understand potential risks before purchasing/holding digital assets. Nothing herein shall be considered legal or financial advice. For more information about the risks and considerations when using our services, please view our full disclaimer.