Stably Developing a Meta-Stablecoin
Over the past few months, the team at Stably has been working on building a stablecoin, called StableUSD (USDS). USDS is a price-stable cryptocurrency that is pegged and fully backed 1:1 by US dollars. It will utilize a proven centralized model to fully back every token issued with an equivalent unit of US Dollars held in escrow accounts managed by a regulated trustee.
Today, we are also excited to announce our plans to develop a separate, new token — a meta-stablecoin built with a basket of several different stablecoin projects as its reserve. Below, we'll talk about how each of these two tokens addresses counterparty risks associated with stablecoin projects — USDS mitigates risk while our new meta-stablecoin diversifies risk.
Understanding Counterparty Risk
The biggest and most obvious problem with using popular cryptocurrencies like Bitcoin for transactional purposes at the moment is price volatility. Stablecoins can virtually eliminate this price volatility while still retaining many useful characteristics of cryptocurrencies — fast transaction speed, anonymity, and immutability. Despite these benefits, however, stablecoins have unique risks that are important to understand — specifically counterparty risks. There are several layers of counterparty risk associated with any individual stablecoin project.
Regulatory risk, i.e. proper state and federal licensing
Custodial risk, i.e. trust in the bank or regulated trustee holding the stablecoin
Reserve risk, i.e. trust in a 1:1 backing of the issued stablecoins
Security risk, i.e. secure code underlying a stablecoin's platform and smart contract infrastructure
Network risk, i.e. traffic and usability impact for stablecoins built on any one blockchain protocol
USDS Mitigates Counterparty Risk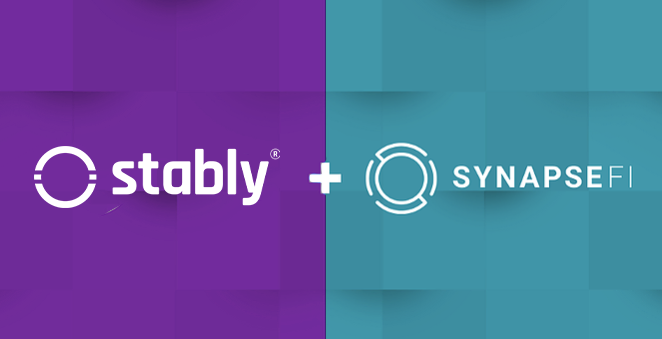 We are excited to announce a new partnership with a regulated trustee for Stably, SynapseFi. With all of these counterparty risks in mind, Stably has been steadily laying the groundwork for the proper preparation, regulation, and transparency to effectively address these risks for our stablecoin, USDS. We believe that Stably's efforts and corresponding disclosures lead the stablecoin industry in mitigating counterparty risk, protecting users, and building trust.
Regulatory risk: Stably never directly touches the reserve. Instead, we partner with fiduciary trust companies that have the proper state and federal licenses to hold, send, and receive money. Additionally, every user of the Stably platform must go through proper KYC/AML.

Custodial risk: Stably is working with PrimeTrust, a well-known and regulated trustee company to hold the USDS reserve. Additionally, we are excited to announce a new partnership with a regulated trustee for Stably, SynapseFi. Stably will continue to add to our network of regulated trustees, further mitigating risk to the user from any one account holding the full reserve for USDS.

Reserve risk: To provide full transparency, Stably will provide users of our future platform with a view our reserve balance in real-time, via a live feed from our regulated trustees' APIs. Additionally, a leading third-party auditor, will provide regular attestations on our reserve balance.

Security risk: Stably is working with leading security firms to regularly audit our platform and smart contract code to ensure bank-grade security.

Network risk: Stably will build USDS on several blockchain protocols. We are already live on the Ethereum mainnet, and exploring additional protocols to add, including Stellar, EOS, and Ripple.
Stably's New Meta-Stablecoin Diversifies Counterparty Risk
Along with USDS, our regulated, trusted, and redeemable stablecoin, Stably is developing a separate, new token — a meta-stablecoin built with a basket of several different stablecoin projects as its reserve (e.g. USDS, USDC, TUSD, GUSD, PAX, DAI). This will be the first token of its kind, that can be traded across any exchange.
Besides USDS, the other stablecoins in the basket contemplated have not yet been selected — as we continue to develop this meta-stablecoin, we will carefully monitor the market and evaluate the right stablecoin projects to include in our basket.
Our approach to building this basket will be to design a coin with institutional cryptocurrency traders in mind. The main advantage of this coin will be diversification of counterparty risk. A user can confidently trade this coin knowing that the risk profile of the coin is diversified with several other stablecoin projects. Additionally, Stably is also exploring building this meta-stablecoin as a privacy token, helping institutional cryptocurrency traders anonymize positions that they are holding.
If you are an institutional trader interested in Stably's meta-stablecoin, please email kory@stably.io to learn more.

About Stably
Stably is a venture-capital backed startup that is on a mission to connect wealth from the real world to the blockchain economy and help bring stability to the volatile cryptocurrency market. We raised seed funding from 500 Startups, Beenext Ventures, and angel investors to kickstart our project.
We will be launching a platform to automatically create and redeem USDS in the coming weeks, as well as listing on multiple top-volume exchanges. Follow our Medium blog to stay up to date with all of our latest announcements.