Stably announces early-access launch of 1:1 USD-pegged cryptocurrency, Stably USD (USDS)
Stably today announced its early-access launch of a price-stable cryptocurrency that is pegged and fully backed 1:1 by US dollars, the Stably USD (USDS) stablecoin. Stably USD will utilize a proven centralized model to fully back every token issued with an equivalent unit of US Dollars held in escrow accounts managed by a regulated trustee.
Starting today, anyone can apply to be a verified client to create and redeem Stably USD. A verified client can send cash to the company's regulated trustee to initiate the transaction. Stably then submits the transaction to the smart contract, which mints new Stably USD tokens and sends them back to the client.
The creation process will also work with Bitcoin (BTC), Ether (ETH), or Tether (USDT). The sent cryptocurrency will be converted to US dollars on the open market by our regulated third-party trustee. The corresponding amount of Stably USD will then be minted and sent back to the client through our smart contract.
The ability to create and redeem Stably USD is available today and will be accessible in an easy-to-use web portal in the near future.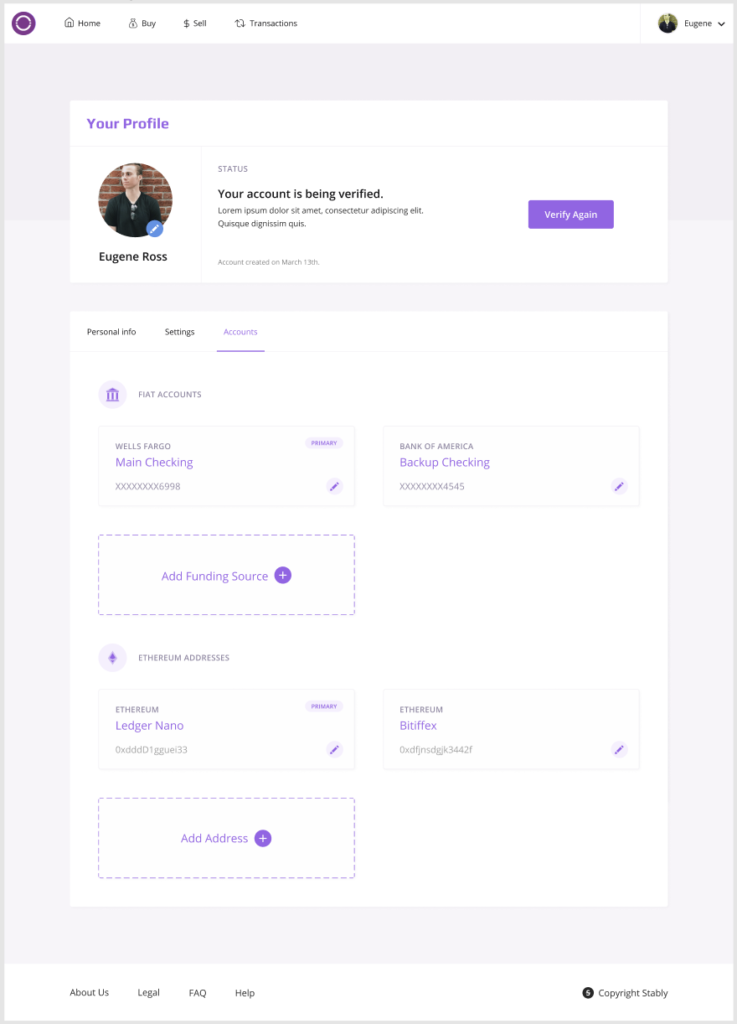 A sneak peek at the upcoming Stably USD create & redeem portal. At that point, the company will also list Stably USD trading pairs on major cryptocurrency exchanges. If you are an exchange interested in listing Stably USD or a market maker that would like to provide liquidity for USDS trading pairs, please email info@stably.io.

Prime Trust signed to partner with Stably
Stably recognizes that a fiat-backed stablecoin requires high public transparency for consumers and businesses to build trust. As a result, we are excited to announce our partnership with Prime Trust, which has agreed to be the regulated trustee for the Stably USD fiat reserves. Users of Stably's future platform will be able to view our fiat reserve's balance in real-time via a live feed from Prime Trust's API. Additionally, we have engaged with a leading stablecoin attestator who will conduct weekly attestations for our fiat reserve.
About Stably USD
The immediate use case for USDS tokens is to help crypto-traders preserve their wealth during periods of market volatility. In the future, a stablecoin like Stably USD could also be applied to other use cases such as fast and borderless payment, an efficient and cheaper solution for remittance, smart contract and DApp integration, and a reliable alternative to money in developing economies.
About Stably
Stably is a venture-capital-backed startup that is on a mission to connect wealth from the real world to the blockchain economy and help bring stability to the volatile cryptocurrency market. We raised $500,000 in seed funding from 500 Startups, Beenext Ventures, and angel investors to kickstart our project.
— — — — —
Subscribe!
Want the latest news and updates? Join our Announcement Channel on Telegram!
Follow us on social media:
Website | Twitter | Linkedin | Facebook | Updates & Announcements
Legal: legal@stably.io
Press: marketing@stably.io
Exchanges or Market Makers: exchanges@stably.io
Partnerships: enterprise@stably.io
Investors: Kory Hoang, CEO — kory@stably.io