Stablecoin-as-a-Service: The 21st Century Money Revolution
Traditional cryptocurrencies have a reputation of their value being too volatile, making them useful for speculation investment. However, this makes them unattractive for any other use case. This dilemma encouraged the creation of stablecoins, whose value is not so strongly influenced by buying and selling conditions.
With the recent announcements from various banks to Facebook and even Walmart, stablecoins have become quite an attractive concept to major corporations, leading to a need for stablecoin-as-a-service providers in the market, such as Stably. We are a fast growing FinTech startup from Seattle founded in April 2018 by a team of former bankers and Amazon software engineers. Stably and our regulated partner, Prime Trust, are the creator of USDS, the 7th largest US Dollar-backed stablecoin in the world featured on major crypto exchanges like Binance and Bittrex.
In a few months, Stably will launch one of the world's largest gold-backed stablecoins in partnership with an enterprise client who is also going to be the first major client for our stablecoin-as-a-service business.
Why major companies want to have their own stablecoins
Social media giant Facebook announced in June the launch of its stablecoin "Libra". It is easy to see why such a company would want to have its own digital coin. Facebook is one of the most influential companies in the world, and it has billions of users. The company revealed that Libra is aimed at making digital payments easy across the globe. In short, the social media giant wants to make sending money across the globe as easy as sending a text.
Companies such as Wells Fargo and even retail companies such as Walmart and Amazon could reap many benefits from the use of stablecoins. For example, a company may offer a stablecoin as a token on its platform, making it easier for the token to be adopted. Customers could use the token to purchase the company's products from the website. The stablecoin would also make incentives on the platform easier. Companies could use these digital currencies to offer bonuses, discounts, and awards.
Essentially, companies could leverage stablecoins to provide an incentive to consumers to use it, contributing significantly towards building customer loyalty. The adoption of stablecoins by companies, especially in the retail sector, may go a long way in reducing the processing costs involved when using fiat currencies.
There are also other advantages to stablecoins, especially for customers. Stablecoins and digital tokens can grant users access to special features and perks. It is a similar principle to casino chips. As far as regulation and safe usage are concerned, the involvement of major companies is a good thing. Major firms have the power to steer regulation in the right direction. Their involvement could also encourage the masses also to embrace cryptocurrencies.
Facebook's approach
It is no coincidence that Facebook and numerous other companies have expressed interest in stablecoins. Facebook's particular use case makes a lot of sense, especially since the company already has platforms that reach billions of people. It was only a matter of time before they introduced a method of transacting on those platforms.
Wells Fargo's approach
Wells Fargo's venture into stablecoins is also fueled by the need to achieve faster and cheaper transactions. One of the company's executives recently revealed that Wells Fargo's cross-border transfer service leverages a stablecoin that is cheaper and faster than SWIFT, which is a global system used by financial institutions to facilitate transactions, especially across borders.
Walmart's approach
Retail giant Walmart recently filed a cryptocurrency patent that would allow it to follow in Facebook's footsteps. The patent filing revealed that Walmart wants to pursue a stablecoin pegged on fiat currency. The company's goal with the cryptocurrency is to provide accessibility to those that do not access banking services.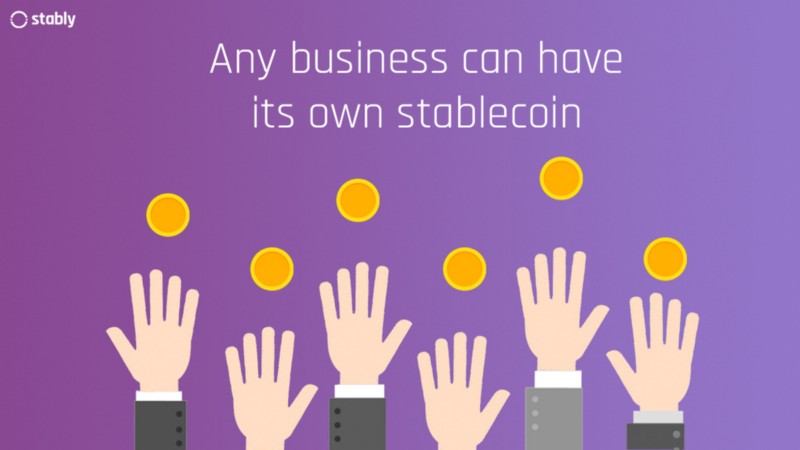 Any business can have its own stablecoin
Walmart, Facebook, and Wells Fargo are just some of the corporate entities that have embraced the idea of tokenization or using a stablecoin to enhance their operations in some way. They are a perfect example of how companies can take advantage of stablecoins to improve their operations. Any company can have its own unique stablecoin, which can be used to achieve various purposes, such as allowing customers to make purchases.
Companies can get their own digital currencies through Stably. Stably is currently well-positioned to fulfill the needs of any company that embarks on a digital currency journey, and can tailor the stablecoin to meet the requirements of any company.
Companies can also sell stablecoins to people as a representation of the value of an individual company's stock. Furthermore, stablecoins can be used as securities tokens that allow investors from anywhere in the world to invest in the company and obtain benefits like dividends.
Stablecoins have been in existence for quite some time, such as USDT, which is pegged on the U.S dollar. However, the first generation stablecoins did not have much of an impact due to low adoption. The second wave of stablecoins is here This time, they have the backing of major companies such as Facebook and Walmart. The involvement of mainstream corporations will help kick things into high gear as far as adoption is concerned.
Another incentive for companies to have stablecoins is that they can sell the stablecoins to their customers and then use the funds to earn a decent amount of interest after depositing the funds in bank accounts. This particularly works for major companies that have millions of customers.
Are stablecoins the future of the cryptocurrency industry?
When the first generation of cryptocurrencies such as Bitcoin was formed, they were quite promising and were even thought to be the future of money. They received a lot of opposition from the mainstream financial companies and were seen as a major threat to fiat currencies. However, they ended up with speculation as to their main use case. Stablecoins exist to eliminate this problem which has prevented the first generation cryptocurrencies from achieving their main objective.
It might be too early to tell whether stablecoins will take the cryptocurrency market to the expected heights, but they are off to a good start. The involvement of major firms is an added advantage.
Summary
Stablecoins are the next big step for the cryptocurrency market as it tries to get things right. The first generation of cryptocurrencies did not take off as expected, but stablecoins present an opportunity for cryptocurrencies to be integrated into society. Integration into existing fiat currency systems has the potential to provide an avenue for co-existence. Most importantly, stablecoins offer a chance to improve and offer more convenience in existing systems.
---
Stably is a US-based FinTech providing fiat onramp and stablecoin infrastructure to digital wallets, decentralized applications, Web3 projects, and blockchain development organizations. Our mission is to power the next billion Web3 users with a superior fiat <> crypto onramp to all popular and emerging blockchain ecosystems.
For more information, contact Stably.
Follow Stably: Twitter | Linkedin | Facebook | Stably Discord Community
RISK DISCLAIMER: Digital assets involve significant risks, including (but not limited to) market volatility, cybercrime, regulatory changes, and technological challenges. Past performance is not indicative of future results. Digital assets are not insured by any government agency and holding digital assets could result in loss of value, including principal. Please conduct your own thorough research and understand potential risks before purchasing/holding digital assets. Nothing herein shall be considered legal or financial advice. For more information about the risks and considerations when using our services, please view our full disclaimer.