Stablecoin-as-a-Service: The 21st Century Money Revolution
What is stablecoin as a service?
Despite promising to revolutionize finance technology, the cryptocurrency world regularly comes under fire for the price volatility of its most prominent assets — and deservedly so. Volatility is great for speculative trading, but less so for real-world currency usage. No amount of rationalization can change the fact that users, whether customers or businesses, simply aren't comfortable with not knowing what the value of their digital assets will be a month down the road. Stablecoins, cryptocurrencies with their value pegged to a variety of backing assets such as fiat or precious metals, have emerged to combat this hurdle.
Stably, a FinTech start-up from Seattle, has introduced the Stably USD (USDS) and has a series of new stablecoins coming in 2020 for various other currencies such as GBP and EUR — in addition to exploring the newly emergent field of Stablecoin-as-a-Service.
Stablecoin-as-a-Service is an evolution of the classic stablecoin concept that allows the needs of countless companies and vendors to be met — and allows this service to be developed externally without any need for internal research and development on the part of businesses.
Who has looked into stablecoin as a service?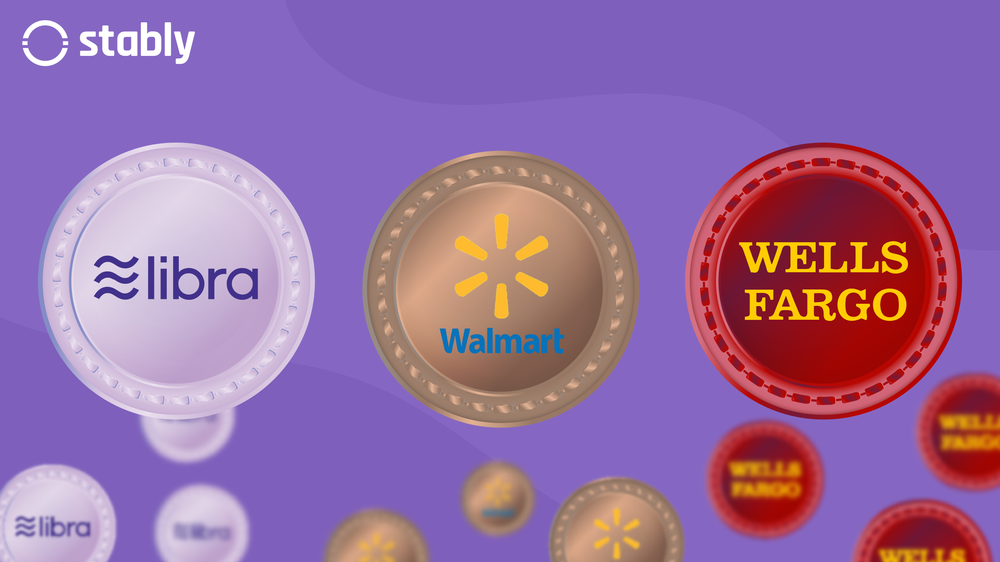 It's no coincidence that two of the most "mainstream" cryptocurrencies in development are stablecoins: Facebook has introduced Libra, and Walmart has notably filed a patent for a stablecoin as well. Even Wells Fargo has introduced a stablecoin, admitting that it is faster, cheaper and more efficient than traditional payment methods. This goes to show what Stably has been arguing all along: cryptocurrency can fill the demands of potential users more effectively when used as a stablecoin.
Why do major companies want their own stablecoins?
There's a reason that huge companies aren't looking to existing stablecoin solutions and rather are more interested in their own tokens. A major factor in cryptocurrency's usage on any mainstream platform is adoption — and if companies like Facebook and Walmart introduce stablecoins, they can ensure that their user base will face few obstacles in using their stablecoins. They could also harness their own branded digital tokens to offer incentives on their website, building customer loyalty and encouraging money to be kept within their ecosystem.
How can businesses benefit from stablecoins?
Stablecoin adoption can also have the potential to drive down the processing fees used by traditional transaction services, which benefits not only businesses with stablecoins but also those who use a mixture of stablecoins and payment systems like SWIFT. Stablecoins are programmable and have the potential to be used to reward customers with perks and features of their platform — and the involvement of major companies like Facebook and Walmart on the stablecoin scene means that users will feel much more secure in adopting similar tokens. Further, stablecoins could be used as securities tokens that allow investments and dividends to be issued.
How Stably Enterprise can help them create their own stablecoin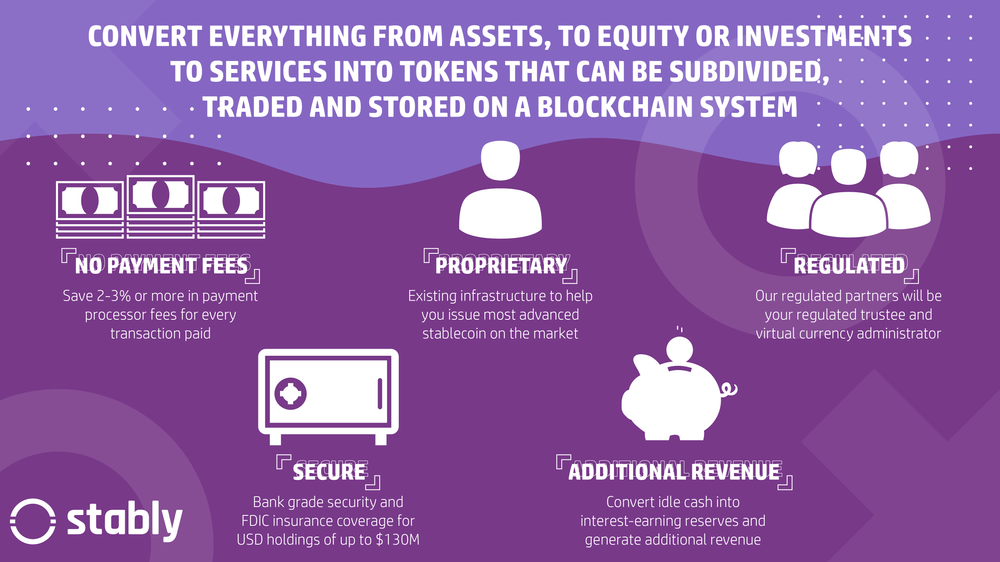 In addition to Stably's growing set of stablecoins, Stably Enterprise has been introduced to support companies in rolling out their own branded stablecoins. A standardized stablecoin, such as Stably's USDS, is suitable for a wide range of applications, but many businesses have very specific needs and requirements. Stably Enterprise has proprietary Stablecoin-as-a-Service technology as well as a network of regulated partners that offer bank-grade security and FDIC insurance coverage. With the support of Stably Enterprise, any business can design and launch a branded stablecoin token in a matter of weeks with built-in upgradability for future features.
The time of Stablecoin-as-a-service is drawing nearer, and Stably Enterprise is ready to help businesses stay ahead of the curve with this emerging payment technology.
For more information about Stably Enterprise and how to get started, please contact us at enterprise@stably.io
---
Stably is a venture-backed FinTech from Seattle, Washington. We provide regulatory-compliant stablecoin and onramp infrastructure for emerging blockchains, Web3 applications, and financial institutions, enabling their users in 170+ countries/regions to easily buy, sell, or swap digital assets at competitive rates across multiple blockchain networks with stablecoins and fiat payments. Our mission is to power the next billion Web3 users with a superior fiat & stablecoin onramp.
For all inquiries, feel free to contact us.
Follow Stably: Twitter | Linkedin | Facebook | Discord Community
RISK DISCLAIMER: Digital assets involve significant risks, including (but not limited to) market volatility, cybercrime, regulatory changes, and technological challenges. Past performance is not indicative of future results. Digital assets are not insured by any government agency and holding digital assets could result in loss of value, including principal. Please conduct your own thorough research and understand potential risks before purchasing/holding digital assets. Nothing herein shall be considered legal or financial advice. For more information about the risks and considerations when using our services, please view our full disclaimer.