Real-Time Reserve Balance and Automatic 1-Step Redemption for USDS
Stably continues to set the standard for the stablecoin industry by introducing automatic 1-step redemption, with the lowest minimum redemption on the market.
Stably Real-Time Reserve Balance
Two months ago, Stably launched its online platform for Stably USD, providing one of the easiest ways to purchase and redeem stablecoins on the market. Stably set the standard for transparency in the stablecoin industry by providing a real-time reserve balance of Stably USD via a live feed from the API of our reserve holder, Prime Trust. This dashboard is available for anyone on the Stably USD platform.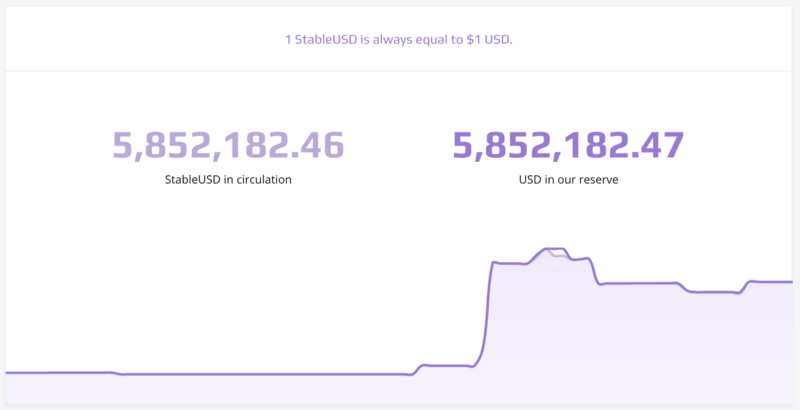 Stably's real-time reserve balance dashboard, launched in January 2019Stably provides two pieces of information through this platform. The first is how much USDS we have in circulation, based on our smart contract. The second is how much USD our regulated trustee has in their reserve. You will notice at times, we will have more USD than USDS — this is because Stably burns USDS before we wire money for any redemption request, so in the time it takes for a user to receive their wire, Stably USD will be overcollateralized.
Leading third-party auditor also provides regular attestations on our reserve balance. Our most recent attestation can be found here.
Regular attestations from our stablecoin attestor combined with our real-time dashboard — which shows not only our current balance, but historical balances of both USDS in circulation and USD in our reserve — gives our users full confidence that their tokens are backed.
Automatic 1-Step Redemption for USDS
Continuing to lead innovation in the stablecoin space, Stably is excited to announce an automatic 1-step redemption process for USDS, with the lowest minimum redemption amount on the market for this process, $50.
How to use automatic 1-step redemption
Send USDS tokens to your personalized deposit address and funds will automatically be wired to your bank account
To enable 1-step redemption, simply open up an account at usds.stably.io and link a bank account on your profile page. You can find your personalized deposit address at usds.stably.io/sell.
Automatic 1-step redemption for USDS allows any users to redeem USDS from anywhere — exchanges, wallets, or anywhere else you are storing your tokens. This process can be fully automated to remove any manual steps for trading desks.
Fees
Stably is proud to charge no fees for purchase or redemption of USDS, outside of associated wire fees from your bank.
Account opening/closure fees: $0 USD
Account maintenance fee: $0 USD per month
USDS purchase fee: 0% per transaction
USDS redemption fee: 0% per transaction
Ethereum gas fee: 0 ETH for USDS purchase, market rates for USDS redemption
Wire fee for USDS purchase: Please refer to your bank or service provider's fee schedule.
Wire fee for USDS redemption: $0 per transaction
About Stably
Stably is a venture-capital backed startup. Our vision for the future is to create a more efficient global infrastructure for transferring and settling funds — faster, cheaper, and accessible to all.
What is USDS?
USDS is a stablecoin created by Stably. Stablecoins are cryptocurrencies that are equivalent to national currencies — i.e. digital cash. Regulated, fiat-backed stablecoins are backed by physical reserves of cash and can be redeemed at a 1:1 ratio.
USDS virtually eliminates the crippling price volatility of traditional cryptocurrencies, like Bitcoin and Ethereum, while still retaining many of their useful characteristics.
— — — — —
Subscribe!
Want the latest news and updates? Join our Announcement Channel on Telegram!
Follow us on social media:
Website | Twitter | Linkedin | Facebook | Updates & Announcements
Legal: legal@stably.io
Press: marketing@stably.io
Exchanges or Market Makers: exchanges@stably.io
Partnerships: enterprise@stably.io
Investors: Kory Hoang, CEO — kory@stably.io