Kory on #DigEcon Live Web-Series
On April 21st, 2020 at 9PM EST, CEO Kory Hoang joined Alexander Angerer (SFOX), Kevin Murcko (CoinMetro), Katerina Kondratenko (Influencer) on De-fy Tuesdays first show, DigEcon: Entering the Digital Economy: Post Covid19 – The world as we know it has changed. The Covid19 pandemic has accelerated a global transition into the digital economy. They discuss how newbies can get ready for this shift?, what does the future look like for the Finance industry? and Future of Work, Creation, Connection.
Here is a link to the first episode: https://www.youtube.com/watch?v=Z8c3Z3Mc030
Next up on Tuesday 12th May 2020 at 9PM EST Kory will join Christyana again but with a new set of guests: Miko (Evercoin), Eryka (Mia Blockchain Center), Celemnt (Genesis Block) and a mystery guest.
Tickets here: https://www.eventbrite.com/e/digecon-live-virtual-talk-show-enter-the-digital-economy-with-a-bang-tickets-103705678476
Twitter: @GiveOnLIVE
IG: @GiveOnLIVE
FB: @GiveLIVENow
TikTok: @GiveOnLIVE
LinkedIn:@ChristyAnaViva @JessicaWalker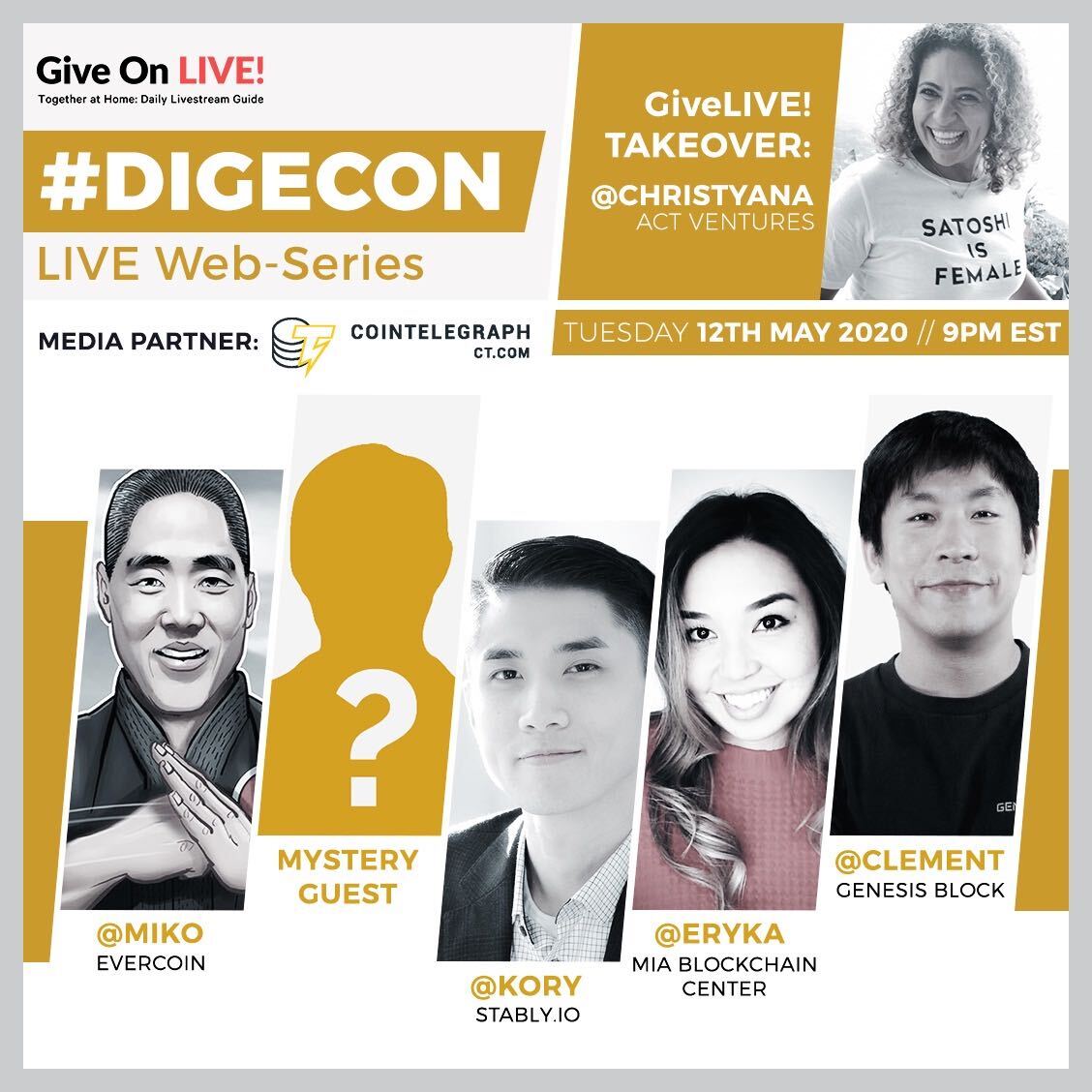 About this Event
#DIGECON: LIVE Web-series-Entering the Digital Economy
Context: The pandemic has accelerated a global transition into the digital economy.
How can we get ready for this shift?

What does the future look like?

Future of Work

Future of Creation

Future of Connection

Defy Tuesdays: Decentralized Finance Focus
Completely free resource, as pioneers in the digital space, let's share our talent, knowledge, and resources to an audience now forced into the digital economy due to Covid19 crisis.
Welcome all add value and incentives to viewers :) Let's get creative and #PayItForward #TogetherAtHome #AllIn
Digecon offers a space for both beginners and advanced tech entrepreneurs to effectively usher in the digital economy.
#DefyTuesdays focuses on decentralized finance. Stay tuned for Entrepreneurship and Music focused episodes also!
Brought to you by: Give On LIVE! a new online video production portal to address the shifting needs of this digital world. The platform brings together, livecreators to share talent and knowledge to a global audience; #TogetherAtHome. Focusing on the most basic human needs: LIVECreators GiveLIVE!and viewers are welcome to #GetPhysical, #GetMusic, #GetSkills, #GetLaughs, #GetLOVE, #GetThinking & #GetFaith in one easy to use online portal.
Join us on Defy Tuesday, the Bitcoin Halving Edition. May 12, 2020, 2 unique episodes, 1pm EST & 9pm EST
---
Stably is a US-based FinTech providing fiat onramp and stablecoin infrastructure to digital wallets, decentralized applications, Web3 projects, and blockchain development organizations. Our mission is to power the next billion Web3 users with a superior fiat <> crypto onramp to all popular and emerging blockchain ecosystems.
For more information, contact Stably.
Follow Stably: Twitter | Linkedin | Facebook | Stably Discord Community
RISK DISCLAIMER: Digital assets involve significant risks, including (but not limited to) market volatility, cybercrime, regulatory changes, and technological challenges. Past performance is not indicative of future results. Digital assets are not insured by any government agency and holding digital assets could result in loss of value, including principal. Please conduct your own thorough research and understand potential risks before purchasing/holding digital assets. Nothing herein shall be considered legal or financial advice. For more information about the risks and considerations when using our services, please view our full disclaimer.