Facebook's Libra vs. Walmart's Stablecoin — What's the Difference?
The advent of the blockchain has promised disruption in countless industries, and the giants are taking note. In late 2017, JPMorgan CEO Jamie Dimon called Bitcoin a "fraud." Less than two years later, JPMorgan created "JPM Coin," a digital asset for settling transactions between institutional clients. Additionally, JPMorgan is partnering with Microsoft to integrate cloud-computing services into JPMorgan's Quorum network, a permissioned enterprise blockchain platform.
The crypto space has changed quickly in recent years, and now adoption by huge corporations has arrived. In June, Facebook entered the crypto space with the announcement of its Libra stablecoin, which in the two months since its introduction has been under the close scrutiny of the U.S. regulatory space. More recently, Walmart has filed for a patent of their own stablecoin, implementing two of the fundamental aspects of Facebook's Libra: proving financial services for the underbanked and having a stable price through centralized fiat-backed redemption.
What is Libra?
The white paper for Facebook's Libra was released on June 18, 2019, describing Libra's mission as enabling a "simple global currency and financial infrastructure that empowers billions of people." The main problem that Facebook aims to address with Libra is the 1.7 billion with no access to a traditional bank — the so-called "unbanked." The majority of this population have phones and close to a third have internet access, but they lack a bank for one reason or another, be it poor financial infrastructure in their country, prohibitive bank costs, or distrust of existing financial institutions. However, with a payment method and store of value that can be easily set up on one's mobile device, many of these unbanked could finally have access to financial services, facilitating global economic growth. But in order to serve as a reliable store of value, an asset must have a stable price. Libra achieves this by adhering to the proven model of centralized fiat-based redemption that stablecoins such as Tether, USD Coin, and StableUSD use, giving Libra tokens inherent value by allowing them to be redeemed into fiat currency. Popular stablecoins tend to back themselves with the U.S. dollar, but Libra, in line with its global-minded vision, is backed on a basket of several low-volatility assets like bank deposits and short-term government securities of countries with trustworthy central banks. Interest on these reserve assets is used to cover system costs. Finally, there is the Libra Association, comprised of an array of companies from a variety of industries and geographies. The Libra Association validates transactions, manages the reserve, promotes Libra adoption, and advances initiatives such as a social impact grant-making program and the move towards the decentralization of the network, which is currently highly centralized.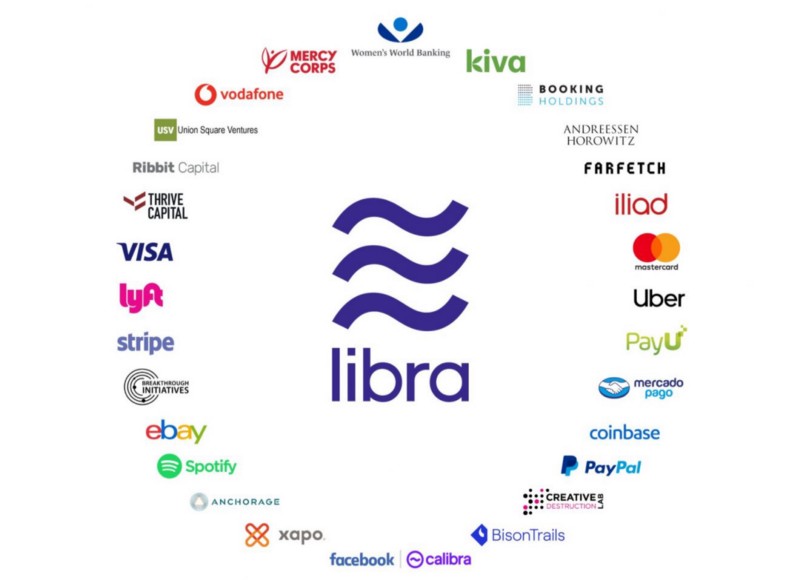 What is Walmart's stablecoin?
Although filed in January 2019, Walmart's stablecoin patent was not visible to the public eye until the beginning of August, and it is the only information available about the token thus far. One spokesman from Walmart has stated that there are no immediate plans for the patent. Compared to Libra, which is fully underway as a project and has its details laid out in a white paper and testnet source code, there has been relatively little information provided by Walmart. What is known is that Walmart's coin will maintain a stable price using the centralized fiat-backed model, although the patent is unclear about whether it is tied to a single national currency or a basket of assets. Walmart intends to use its stablecoin to target low-income households that have problems with credit and carrying cash, akin to Libra's stated goal of providing financial services to the underbanked. By replacing traditional retail payment processors with blockchain, Walmart's retail transaction costs could be significantly lowered, as credit card processing fees average approximately 2%. The patent for Walmart's stablecoin also describes several unique features. These include interest dividends on coins, an integrated loyalty system to earn savings, and the ability to act as a "pre-approved biometric credit."
The difference between Facebook's Libra and Walmart's stablecoin
Fundamentally, the difference between Libra and Walmart's coin is in their ambitions. Libra wants to replace existing financial institutions to become the global standard for payments and banking. On the other hand, Walmart is focused on the retail sector, specifically looking to target its retail customers and their retail payments. This distinction is one reason why Walmart may face less severe regulatory scrutiny than Facebook has, as Libra represents a large corporate entity that is not a financial institution attempting to act as one, with global intentions no less. Cowen Group has echoed this view, adding that Walmart's coin may appeal to Democrats searching for banking alternatives for the underbanked. Further, President Trump, G7 country leaders, and the head of the Bank of England have all voiced concerns about Libra. Libra, by offering lower fees on credit card transactions and remittance, is competing with banks and financial service companies. Walmart's stablecoin, however, seems to be a tool to better compete with Amazon, Walmart's primary retail rival. Their stablecoin's integrated loyalty program reinforces this conjecture: Amazon's brand loyalty is incredibly high, and Walmart could take some of this away through the convenience of having a loyalty program directly integrated into its payments system. Combine this with the fact that Walmart coin holders could earn interest on their tokens, and customers are provided with a strong convenience and financial incentive to shop Walmart.
Looking forward
Facebook and Walmart are among the first corporate giants to expand into the cryptocurrency space, and they will not be the last. As blockchain develops as a technology, corporations and governments alike must adapt accordingly to its ever-growing landscape. Libra and Walmart's stablecoin have grand ambitions to provide a convenient, secure, and uncensorable financial framework to those who are underserved by current institutions, yet it remains to be seen if, after regulatory agency reviews and fierce market competition, the future really will be one of blockchain over banks.
---
Stably is a venture-backed FinTech from Seattle, Washington. We provide regulatory-compliant stablecoin and onramp infrastructure for emerging blockchains, Web3 applications, and financial institutions, enabling their users in 170+ countries/regions to easily buy, sell, or swap digital assets at competitive rates across multiple blockchain networks with stablecoins and fiat payments. Our mission is to power the next billion Web3 users with a superior fiat & stablecoin onramp.
For all inquiries, feel free to contact us.
Follow Stably: Twitter | Linkedin | Facebook | Discord Community
RISK DISCLAIMER: Digital assets involve significant risks, including (but not limited to) market volatility, cybercrime, regulatory changes, and technological challenges. Past performance is not indicative of future results. Digital assets are not insured by any government agency and holding digital assets could result in loss of value, including principal. Please conduct your own thorough research and understand potential risks before purchasing/holding digital assets. Nothing herein shall be considered legal or financial advice. For more information about the risks and considerations when using our services, please view our full disclaimer.