Clean Money VS Dirty Money
Have you ever considered the health benefits of cryptocurrency? That might sound like a joke, but in times of the coronavirus sweeping across the world in 2020, it's more of a consideration than you might think.
Cash Is Dirty
The very function of cash is to change hands – making paper bills a major risk factor in terms of spreading viral particles. According to the Journal of Hospital Infection, coronavirus can linger on surfaces for up to nine days unless said surface is disinfected – and when's the last time you saw someone disinfecting $1 bills? You might see more of it sooner as Chinese banks sterilized cash to combat the spread of the virus, but such measures can only go so far. Even plastic credit and debit cards are passed from hand to hand with regularity, making them little better than paper cash.
Of course, cash is also dirty in a metaphorical sense. Shady players with ill-gotten cash have always preferred untraceable paper bills in order to launder money of dubious origins into 'clean,' usable funds. While certain variants of cryptocurrency have also come under fire for enabling criminals or terrorists to launder dirty money (in 2019 the U.K. government called out cryptocurrencies for their role in money laundering and illicit activity), the reality is that most cryptocurrencies are actually traceable by design and offer little protection to high profile criminals – certainly cryptocurrencies cannot be exploited on the level of paper cash. Money laundering was estimated by the UN to account for $1-2 trillion of global GDP – mostly originating through dirty cash.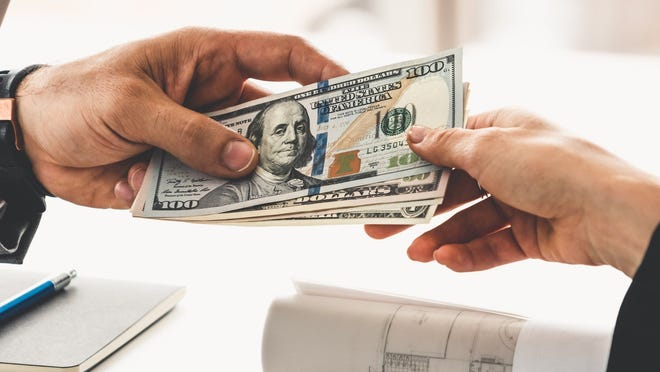 https://www.gannett-cdn.com/-mm-/83e081eae80cd2848af52df6da1060d621468f19/c=0-111-2120-1303/local/-/media/2020/02/10/USATODAY/usatsports/MotleyFool-TMOT-53b92eeb-cash-handing.jpg?width=660&height=372&fit=crop&format=pjpg&auto=webp
Crypto Is Clean
Cryptocurrency in general and stablecoins in particular are built on an open and distributed ledger system – meaning any and all transactions on the network are a matter of public record and fully auditable by any interested parties. A person's ID isn't necessarily tied to their transactions on a blockchain network – preserving privacy for the average user – but criminals and money launderers are unable to avoid investigation as they would with cash. This results in a win-win situation where stablecoin blockchain alternatives to cash are cleaner than cash, yet average users have little to fear. Furthermore, the U.S. has announced that it will be rolling out new regulations to enforce greater transparency of crypto assets, ensuring that crypto will be used for upright, honest purposes. Side note: as a result of blockchain's built-in transparency, financial reporting costs are predicted to shrink dramatically as adoption increases.
Naturally, the cleanliness of crypto extends even further to literal cleanliness: just imagine if the world had been using stablecoins instead of cash, how much spread of the coronavirus could have been prevented? It's impossible to say for sure, but awareness of the literal and metaphorical dirtiness of cash in comparison to crypto just might prove to be another step forward towards widespread adoption of cryptocurrency and stablecoins in the years to come.
Digital Currency for a Digital World
The World Health Organization is reportedly encouraging people to use digital payment options as much as possible in the wake of the coronavirus crisis.
While the primary method of coronavirus infection is airborne, this virus can survive on hard surfaces like coins for days in some cases. U.S dollars, a blend of fabric and paper, are harder for viruses to stick to.
Stably, a FinTech start-up from Seattle, has introduced the Stably USD (USDS) and has a series of new stablecoins coming in 2020 for various other currencies such as GBP and EUR – in addition to exploring the newly emergent field of Stablecoin-as-a-Service.
In addition to Stably's growing set of stablecoins, Stably Enterprise has been introduced to support companies in rolling out their own branded stablecoins. A standardized stablecoin, such as Stably's USDS, is suitable for a wide range of applications, but many businesses have very specific needs and requirements. Stably Enterprise has proprietary Stablecoin-as-a-Service technology as well as a network of regulated partners that offer bank-grade security and FDIC insurance coverage. With the support of Stably Enterprise, any business can design and launch a branded stablecoin token in a matter of weeks with built-in upgradability for future features.
For more information about Stably Enterprise and how to get started, please contact enterprise@stably.io
---
Stably is a US-based FinTech providing fiat onramp and stablecoin infrastructure to digital wallets, decentralized applications, Web3 projects, and blockchain development organizations. Our mission is to power the next billion Web3 users with a superior fiat <> crypto onramp to all popular and emerging blockchain ecosystems.
For more information, contact Stably.
Follow Stably: Twitter | Linkedin | Facebook | Stably Discord Community
RISK DISCLAIMER: Digital assets involve significant risks, including (but not limited to) market volatility, cybercrime, regulatory changes, and technological challenges. Past performance is not indicative of future results. Digital assets are not insured by any government agency and holding digital assets could result in loss of value, including principal. Please conduct your own thorough research and understand potential risks before purchasing/holding digital assets. Nothing herein shall be considered legal or financial advice. For more information about the risks and considerations when using our services, please view our full disclaimer.